Our lighter strength formulation
FlexiSEQ contains a lighter formulation of our drug-free, joint lubricating technology and is designed for those with active joints affected by everyday wear and tear.
Whether you're cycling to work, walking the hills, hitting the gym or taking a weekend yoga class, FlexiSEQ provides trusted relief from the pain and stiffness of joint wear and tear to keep you moving.
FlexiSEQ is available in 50g and 100g packs.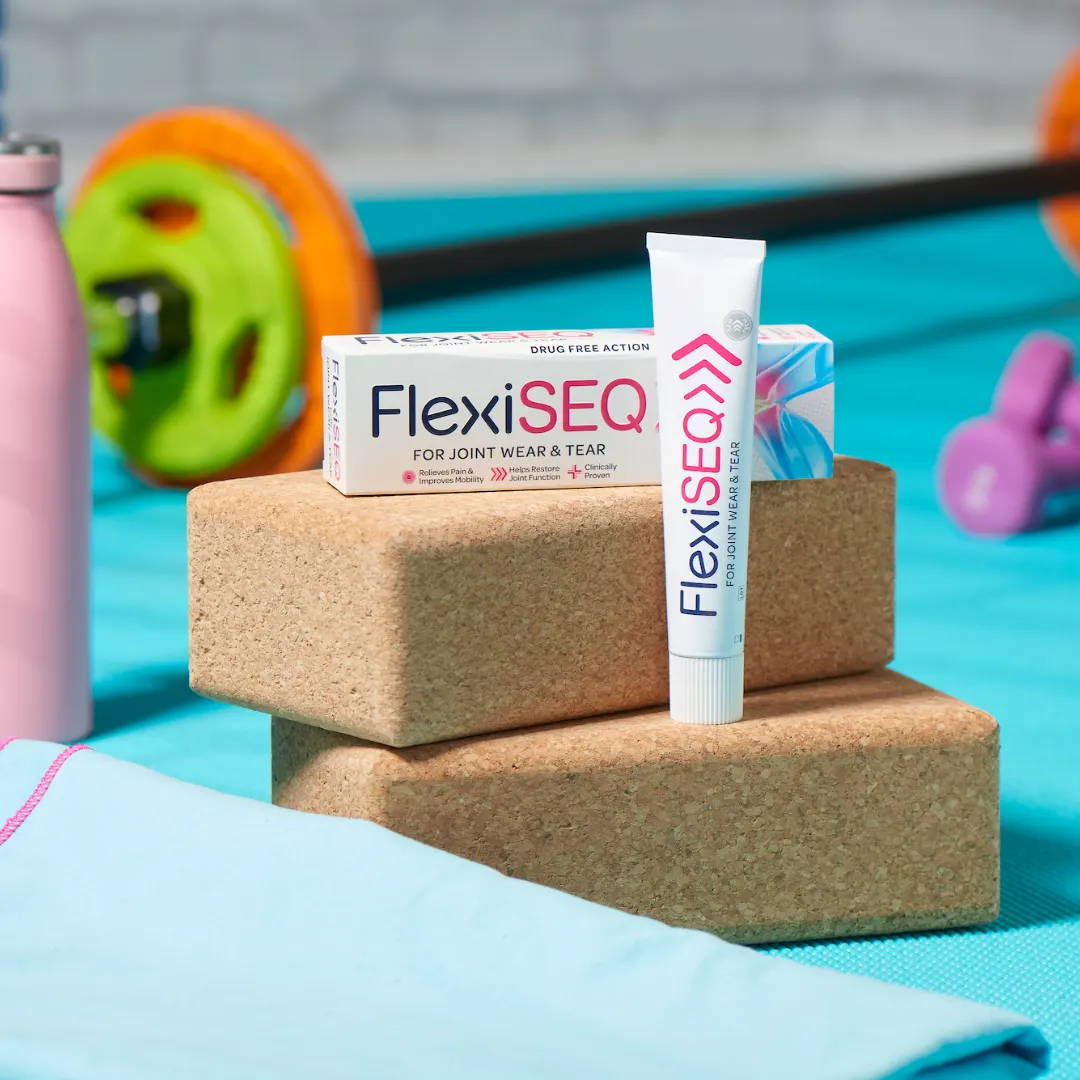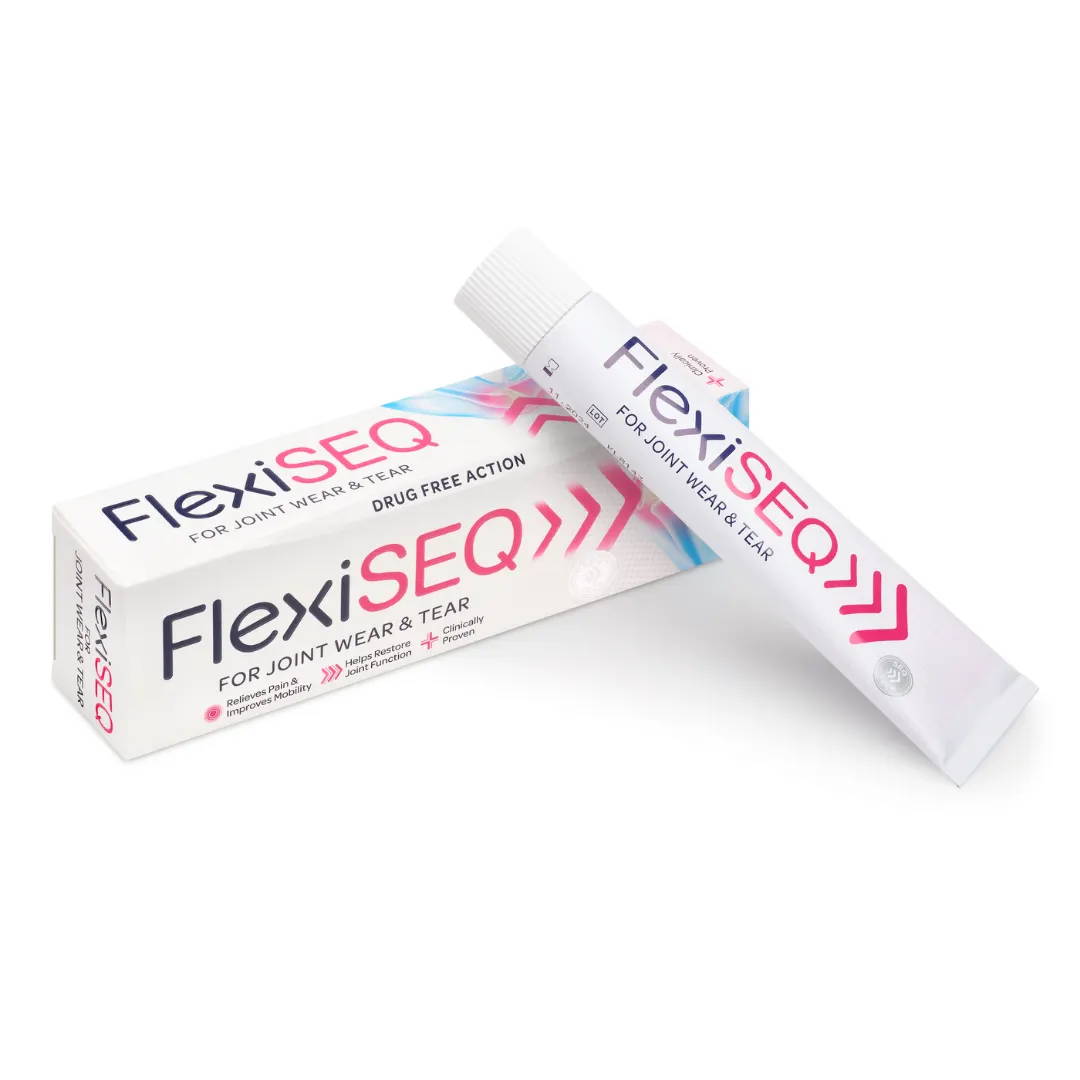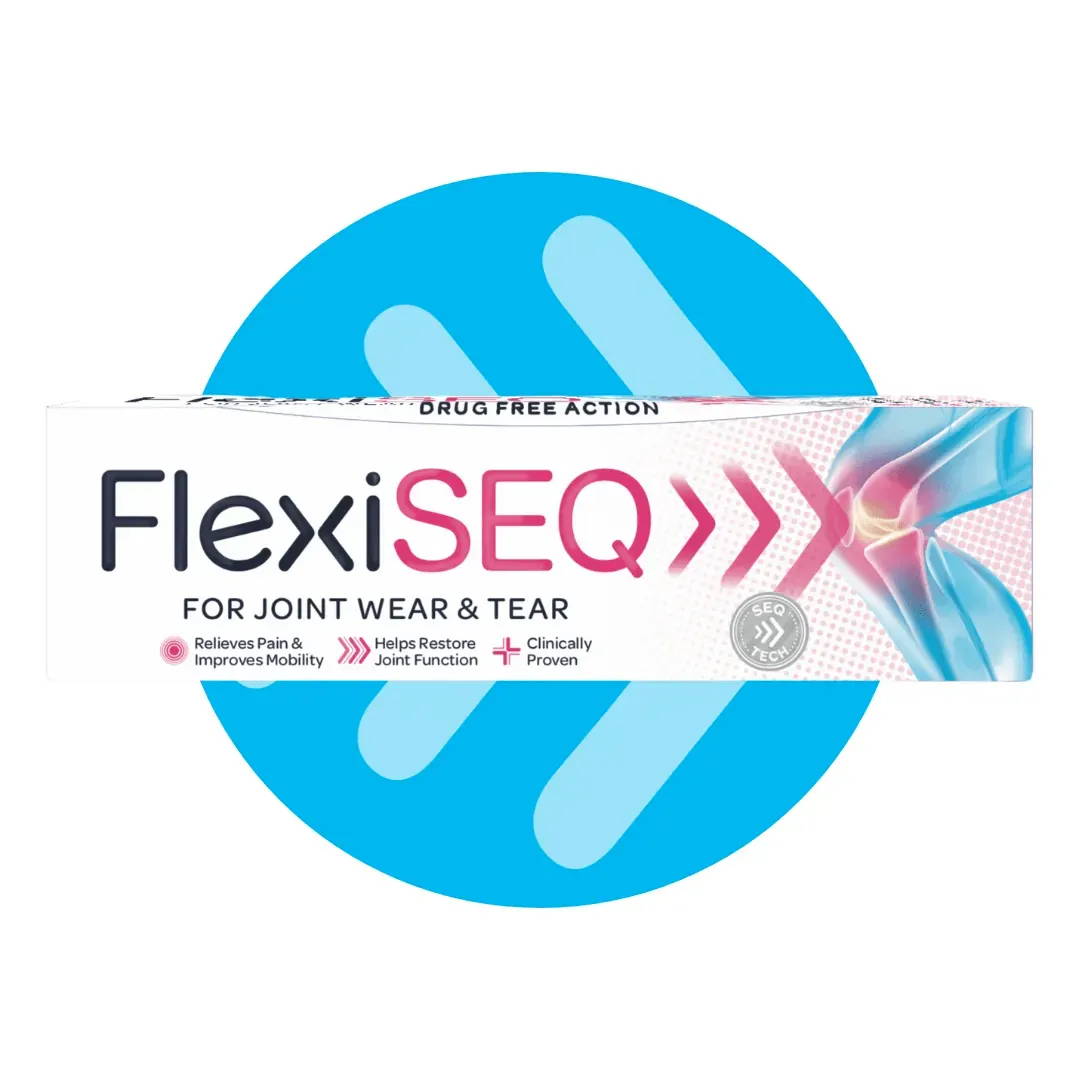 Unlike traditional painkillers that temporarily relieve inflammation to mask pain, FlexiSEQ's drug-free treatment lubricates the cartilage in joints to help you retain pain-free mobility.
Trusted by professional sportsmen and women around the world, FlexiSEQ is specially formulated for joints that have to cope with the demands of a more physical lifestyle.
Apply FlexiSEQ twice a day in the morning and evening to affected joints, including hands, knees, hips and shoulders.
In clinical studies, FlexiSEQ showed improvements in pain, joint stiffness and physical function, as well as an impeccable safety profile. Check out the results of our  Experience Study and user reviews.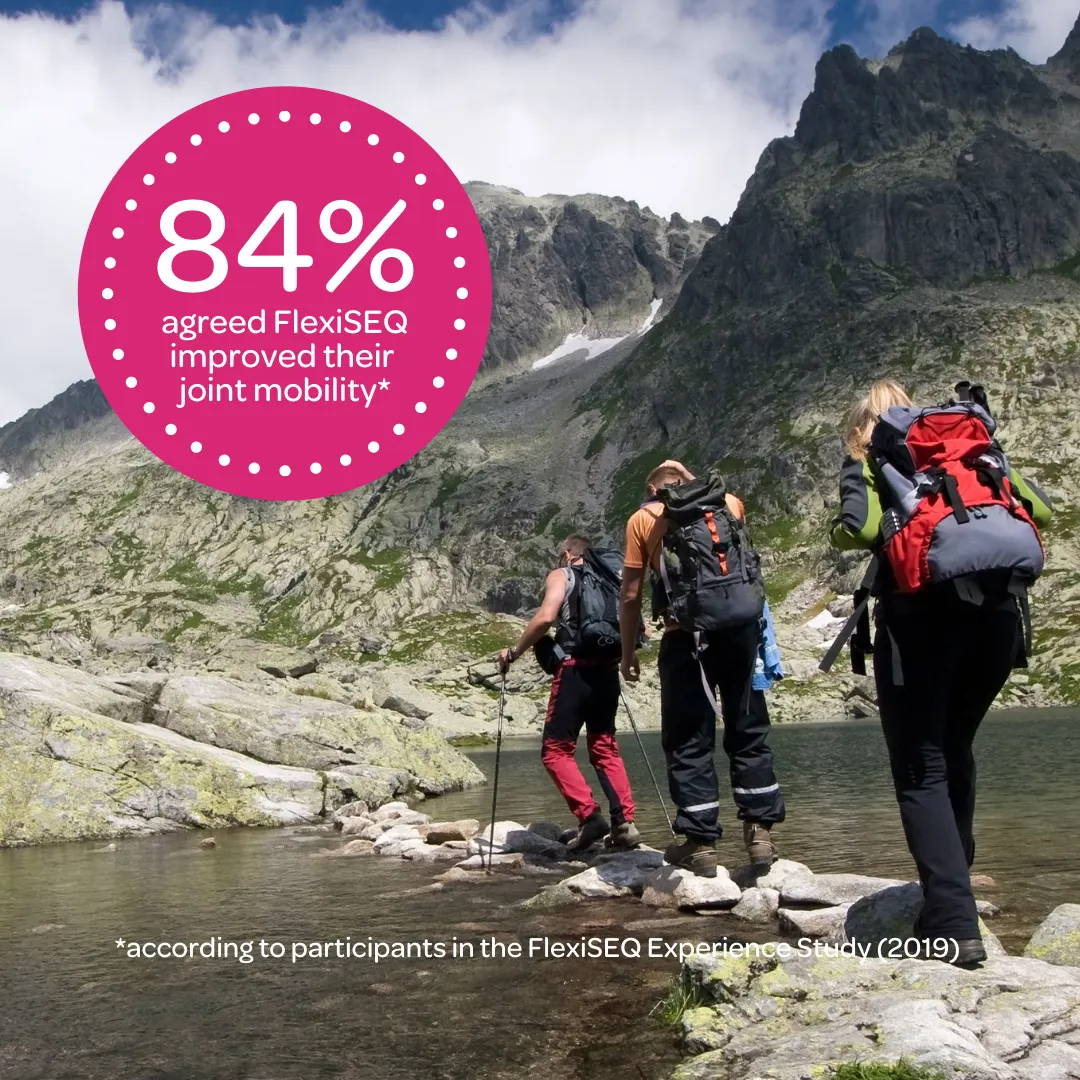 FlexiSEQ helps to relieve pain and improve joint mobility thanks to billions of plant-based, oily droplets called Sequessomes™.
Activated when our gel dries on the skin, these tiny, flexible droplets pass through the skin and into target joints, where they localise on cartilage surfaces to form a lubricating layer.
We call our unique lubricating mode of action SEQ Tech® and it's the revolutionary driving-force powering FlexiSEQ.
Patients with joint disorders such as osteoarthritis have been found to have reduced levels of lubricants in their synovial fluid and this is one of the factors contributing to the pain and loss of joint function in patients with osteoarthritis. There is strong evidence in published literature that liposome vesicles can act as a bio-lubricant in the knee joint, and hence can relieve pain and improve mobility.
FlexiSEQ is drug-free and has no pharmacological, metabolic or immunological activity. FlexiSEQ exerts its pain-relieving effect via lubrication of the joint which is a physical mode of action.
FlexiSEQ is a gel containing Sequessome vesicles (SEQ Tech), which are tiny lipid spheres or liposomes. They are compressible and deformable, yet stable. Research has shown that following topical application of FlexiSEQ, as the gel dries on the skin the vesicles change their shape and pass through the skin, then enter the synovial joint where they collect in the synovial fluid and on cartilage surfaces to supplement the reduced levels of naturally occurring lubricants. The physical properties of Sequessome vesicles (SEQ Tech) make them particularly efficient at lubricating the joint surfaces to provide relief from pain and stiffness.
What is the difference between FlexiSEQ Max Strength (for Osteoarthritis) and FlexiSEQ (for Joint Wear & Tear) and which product should I choose? 

Both FlexiSEQ products contain Sequessome Technology (SEQ Tech) in an aqueous gel. When the gel is applied topically, SEQ Tech delivers lubricating plant-based phospholipid vesicles through the skin and into joints to help relieve pain and improve mobility.
FlexiSEQ Max Strength (for Osteoarthritis) contains the maximum concentration of Sequessome vesicles and is intended for patients who have received a diagnosis of osteoarthritis and need relief from the associated joint pain and stiffness. Patients seeking maximum strength treatment for their symptoms should choose FlexiSEQ Max Strength (for Osteoarthritis).
FlexiSEQ (for Joint Wear & Tear) contains a lower concentration of Sequessome vesicles and is intended for patients who have early stage osteoarthritis, or ongoing joint pain caused by wear and tear that is perhaps not as severe as osteoarthritis but continues to be painful and cause discomfort. SEQ Tech inside FlexiSEQ (for Joint Wear & Tear) helps to restore joint function and relieve the pain associated with joint wear and tear.
Both products offer a drug-free alternative for the relief of joint pain and stiffness which means patients can avoid drug-based side effects that can be caused by traditional painkillers such as diclofenac and ibuprofen. In addition, FlexiSEQ products can be used alongside medications without interference, and by patients with other conditions (co-morbidities) without exacerbating their other conditions.
Are FlexiSEQ products right for me?
Any patients with osteoarthritis or joint pain and stiffness caused by wear and tear to the cartilage can use FlexiSEQ products. They are of particular interest to:
• Patients for whom other treatment options (NSAIDs, COX-II inhibitors, paracetamol, etc.) should be avoided or used as little as possible, either because of their other medical conditions, patient age or their concomitant medications. This includes patients with cardio-vascular (CV) or gastro-intestinal (GI) risk factors and problems.

 

• Patients who are not receiving adequate symptomatic relief from their current treatment and want to add another option.

Precautions:
• Patients with known sensitivity to any of the ingredients listed on the box should not use FlexiSEQ.

• FlexiSEQ has not been tested on children, pregnant or breast-feeding women, so these patients should consult their doctor before using FlexiSEQ
Where can I purchase FlexiSEQ?
FlexiSEQ products are widely available without prescription at several high street retailers and independent pharmacies, including their on-line stores. Please contact enquiries@flexiseq.com or phone us on +44 (0)800 254 0119 if you require a current list of retailers.
How well do FlexiSEQ products work?
There have been several clinical studies evaluating the safety and efficacy of FlexiSEQ across a range of doses representative of the two products, and these have consistently demonstrated average reductions in pain and average improvements in physical function.
One of the key studies in this extensive clinical programme also demonstrated that FlexiSEQ Max Strength (for Osteoarthritis) is as effective at alleviating joint pain as an oral prescription drug which, unlike FlexiSEQ Max Strength (for Osteoarthritis), but in common with other treatments in the same class of Non-Steroidal Anti-Inflammatory Drugs (NSAIDs), has well recognised systemic side effects (problems resulting from the drug being spread throughout the body).
In a recent FlexiSEQ User Experience Study, the key findings were:
• 86% of participants agreed that FlexiSEQ

helped improve their overall joint health.

• 84% of participants agreed that FlexiSEQ

improved their joint mobility.

• 73% of participants reported they could go longer without taking pain relief.

• 48% of participants reported a reduction in the number of painkillers taken.

• 82% of participants would definitely recommend FlexiSEQ to a friend.


These same studies have also demonstrated the safety of FlexiSEQ products: the most commonly reported side effects were mild/moderate skin irritations. In addition, there have now been over 160 million applications of the product and, unlike other oral and topical treatments, there have been no reported incidences of systemic side effects (such as gastro-intestinal problems) related to the use of FlexiSEQ. This lack of systemic exposure also makes these products safe to use alongside any other therapy.
What are the differences between FlexiSEQ and pharmaceutical (drug-based) pain treatments?

Unlike most pain treatments, FlexiSEQ treatments are drug-free and therefore have an excellent safety profile. They can be used by patients with other conditions such as high blood pressure and by patients who take numerous medications.
FlexiSEQ has a physical mode of action, while Non-Steroidal Anti-inflammatory Drugs (NSAIDs) have a pharmacological effect and alter physiological pathways in the body. NSAID use is often associated with gastrointestinal (GI) side effects such as ulcers, and cardiovascular (CV) effects such as increased risk of a heart attack and these side effects can be very serious. In contrast, the side effect most commonly reported for FlexiSEQ is mild or moderate skin irritations that are temporary and usually resolve over time without stopping treatment.
There is increasing awareness that oral NSAIDs are not suitable for patients with certain other conditions (such as heart disease, asthma and stomach ulcers), or those who are on specific medications or are elderly. These patients will therefore benefit from the availability of this drug free, effective topical treatment.
Patients already taking NSAIDs may also use FlexiSEQ in combination if additional pain relief is required, whereas topical NSAIDs cannot be used alongside oral NSAIDs at the same time. More details about the concerns with NSAIDs can be found at the Health Service Executive (HSE) at https://www2.hse.ie/conditions/nsaids/
How quickly does FlexiSEQ work?
Twice-daily treatment with FlexiSEQ provides pain relief after as little as 2 days, which is comparable with the onset of sustainable pain relief to other osteoarthritis therapies. It may take several days for the full effect to be seen.
Can FlexiSEQ be used alongside medications?
FlexiSEQ does not contain any active pharmaceutical ingredients and therefore cannot compromise any existing oral medications, such as low-dose aspirin, paracetamol, diuretics. If you have any specific concerns, a doctor or pharmacist should be consulted.
If your question isn't answered above, please refer to our full FAQ page for more.