Tempeh, Kale & Sesame Rice Bowl
If you're living with joint pain or osteoarthritis, it's widely acknowledged that symptoms can be alleviated by tinkering with your diet so that mealtimes include ingredients packed with anti-inflammatory properties.
Finding recipes that get the taste buds tingling is the easiest way to switch to a healthy diet. Our latest arthritis friendly recipe is a delicious tempeh, kale and sesame rice bowl. This dish is bursting with flavour and packed with good for arthritis ingredients.

Keep reading to get the full recipe and if you give it a go let us know how you liked it on Facebook.
Extra Virgin Olive Oil


Ginger

Kale is packed with antioxidants that can help fight inflammation. It also contains a host of vitamins like vitamins A, C and K as well as being rich in calcium to help preserve bones.
Like Tofu, tempeh is derived from whole soy which contains fatty acids like omega-3. Omega-3 is fantastic for joint pain as it has anti-inflammatory properties. They also contain isoflavones which may reduce inflammation.
Sesame seeds contain a compound called Sesamin that has anti-inflammatory properties and antioxidants that can help protect cartilage. They might be small but they are mighty.
Olive oil has many properties that can help you look after your joints. Studies have shown it contains a compound called oleocanthal, which prevents the production of pro-inflammatory enzymes – the same way ibuprofen works. It is widely accepted that - as part of a Mediterranean diet - it can benefit those living with joint pain. Be sure not to heat the oil too high as this can destroy some of the beneficial properties in the oil; a moderate heat is more than enough to achieve what you need here.
There is still a lot of research being done into the benefits of ginger. However, what is known is that ginger contains two compounds - gingerols and shogaols - that possess anti-inflammatory and antioxidant properties.
Garlic contains diallyl disulfide, an anti-inflammatory compound that limits the effects of pro-inflammatory cytokines. As a result, garlic can help fight inflammation and may even help prevent cartilage damage from arthritis.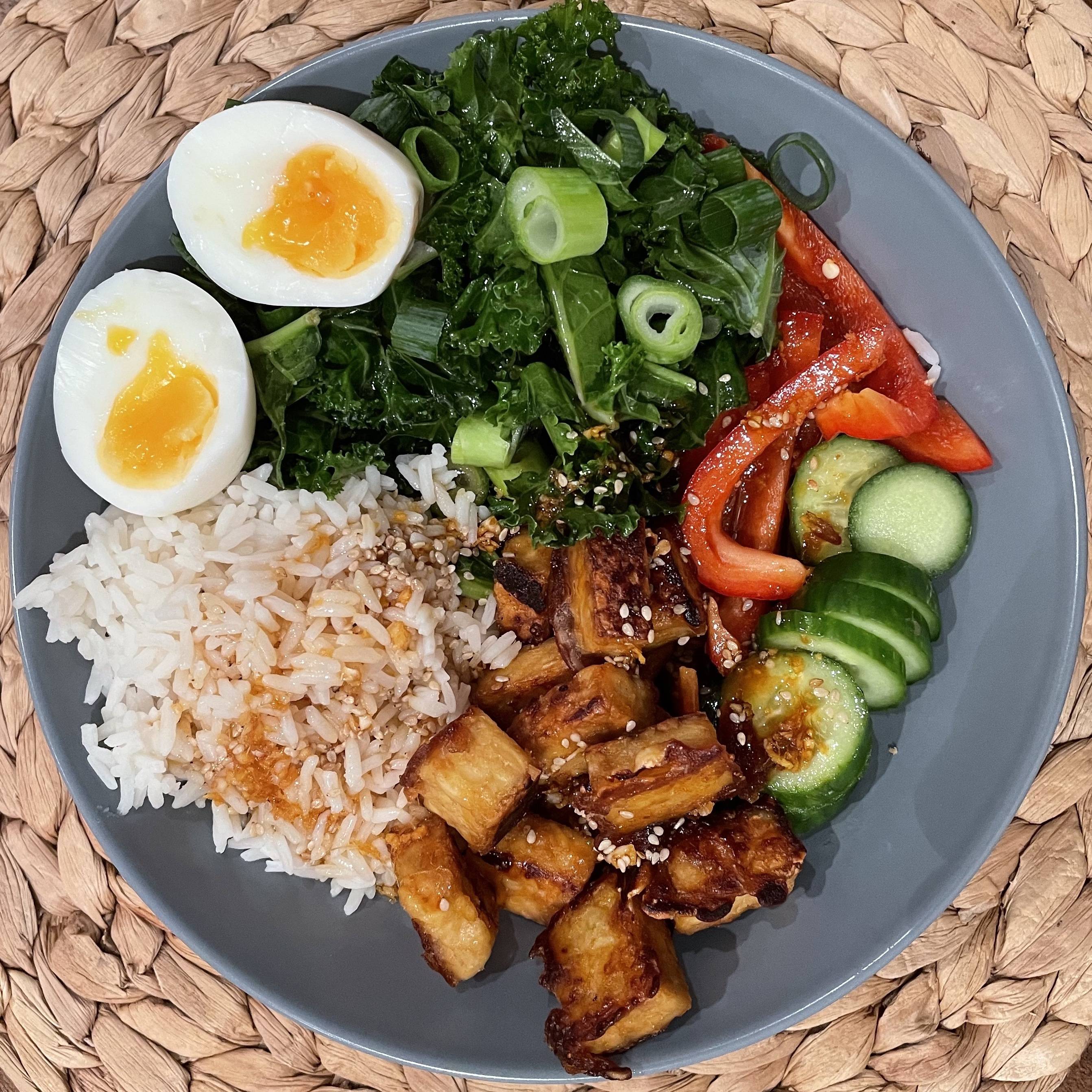 Serves: 2                                                                                                                                                       Prep + Cooking Time: 20 mins
---
Ingredients:
200g tempeh
190g of brown/basmati rice
180g of kale leaves
2 eggs
100g baby cucumbers, chopped
100g spring onions, finely sliced
½ a red pepper sliced
35g of sesame seeds
1 tbsp corn flour
Dressing
4 tbsp cup low sodium tamari (soy sauce)
4 tbsp cup olive oil
2 tbsp sesame oil
1 honey
Juice of 1/2 lime
2 cloves crushed garlic
1 tbsp grated fresh ginger
1 teaspoon sriracha sauce (optional)


Tempeh Marinade
4 tbsp tamari
2 tbsp maple syrup
Sesame seeds
---
Instructions:
Cook the rice as per the instructions on the pack - roughly two cups of water to one cup of rice and boil gently for 20 minutes before fluffing.
Cut the tempeh into cubes and let them rest.
Mix the marinade ingredients together and pour over the tempeh.
For the dressing mix together the olive oil, tamari, sesame oil, lime, honey, crushed garlic and the sriracha sauce.
Pour half of the dressing over the kale and rub it into the leaves until they begin to wilt.
Sprinkle the corn flour over the tempeh and fry in a pan on medium heat for 5-10 minutes until crispy.
Place the two eggs into a boiling pan and cook for roughly 6 and a half minutes.
Once the eggs are boiled run them under water, remove the shell and cut them in half.
Place the rice, tempeh, kale, peppers and cucumbers in a bowl. Garnish with the spring onions and the sesame seeds before pouring the remaining dressing over the entire bowl and serve.
News from flexiseq
The personal information you are providing will help us to deliver, develop and promote Flexiseq products. Submitting your details indicates that you have read and agreed to our privacy and cookie policy. You can read our policies here.